Research Focus
Development of efficient, affordable and scalable pretreatment technologies.
Projects
Mechanistic understanding and optimization of Ionic Liquid Pretreatment
Discovery and Screening of new Ionic Liquids
Impact of modified feedstocks, densification and blending
Improving Ionic Liquid pretreatment process economics
Featured Media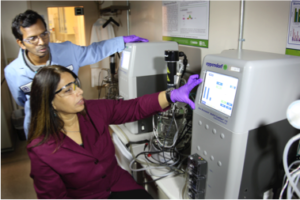 Seema Singh is a biophysicist and a guest senior scientist with the JBEI Deconstruction Research Division & a director of Biomass Pretreatment. She is a distinguished member of the technical staff in Biomass Science and Conversion Technologies Department at Sandia National laboratories, CA.
Researchers Show Ionic Liquids Effective for Pre-Treating Mixed Blends of Biofuel Feedstocks

Berkeley Researchers Boost Switchgrass Biofuels Potential by Adding a Maize Gene to Switchgrass

 
Featured Publications
"Decoding how a soil bacterium extracts building blocks and metabolic energy from ligninolysis provides road map for lignin valorization", Proceedings of the National Academy of Sciences (2016)
"CO2 enabled process integration for the production of cellulosic ethanol using bionic liquids." Energy & Environmental Science (2016)
"Transforming biomass conversion with ionic liquids: process intensification and the development of a high-gravity, one-pot process for the production of cellulosic ethanol." Energy & Environmental Science (2016)
"Next-generation ammonia pretreatment enhances cellulosic biofuel production", Energy & Environmental Science (2016)
"Theory, practice and prospects of X-ray and neutron scattering for lignocellulosic biomass characterization: towards understanding biomass pretreatment", Energy & Environmental Science (2015)
"Efficient biomass pretreatment using ionic liquids derived from lignin and hemicellulose", Proceedings of the National Academy of Sciences (2014)
Book Chapter "Feedstocks for Aviation Biofuels" in Biofuels for Aviation, Elsevier (2016), ISBN: 978-0-12-804568-8
Book Chapter "Ionic Liquid Pretreatment of Lignocellulosic Biomass for Biofuels and Chemicals" in Ionic Liquids in the Biorefinery Concept: Challenges and Perspectives, RSC (2016), ISBN: 978-1-84973-976-4
Book Editor "Valorization of Lignocellulosic Biomass in a Biorefinery: From Logistics to Environmental And Performance Impact", Nova Science Publishers (2016), ISBN: 978-1-63485-827-4
"Impact of High Biomass Loading on Ionic Liquid Pretreatment", Biotechnol Biofuels (2013)
"Survey of Renewable Chemicals Produced from Lignocellulosic Biomass during Ionic Liquid Pretreatment", Biotechnol Biofuels (2013)
"Impact of Mixed Feedstocks and Feedstock Densification on Ionic Liquid Pretreatment Efficiency", Biofuels (2013)
"Unveiling High-Resolution, Tissue Specific Dynamic Changes in Corn Stover during Ionic Liquid Pretreatment", RSC Advances (2013)
"Influence of Physico-Chemical Changes on Enzymatic Digestibility of Ionic Liquid and AFEX pretreated Corn Stover", Bioresource Technology (2011)
"Visualization of biomass solubilization and cellulose regeneration during ionic liquid pretreatment of switchgrass", Biotechnology and Bioengineering (2009)
Featured Intellectual Property